COVID-19 Compliance Testing
The new OSHA federal mandate will require employers with a staff of 100 employees or more to test all unvaccinated workers on a weekly basis. In order for your HR department to remain compliant, our turnkey testing solutions will allow proper record keeping and tracking.

Data & Reporting
Securely track and retain all employee data for federal reporting.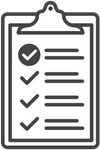 Compliancy
HIPAA compliant collection via FDA-approved COVID-19 testing.

Testing
Mobile and supervised testing individual or group testing.
Turnkey Solutions
Scripx provides start to finish testing solutions.
Flexible Testing Offerings
We offer individual or group testing via on-site bulk testing or mobile in-home testing.
HIPAA Compliant
All data secured and protected per HIPAA requirements.
Accuracy and Real Time
FDA approved tests have 99% accuracy rating for SARS-CoV-2, Flu A and Flu B.
Reporting
Patient records are provided in secure fashion.
Scale
Scripx partners with state and county municipalities, educational institutions and universities, large employer groups, as well as many other music and sports venues to provide all patrons, students and employees rapid testing.
Contact Us Today
Scripx is ready to meet the increasing need of group COVID-19 testing to not only comply with all mandates, but more importantly keep your business and employees healthy.