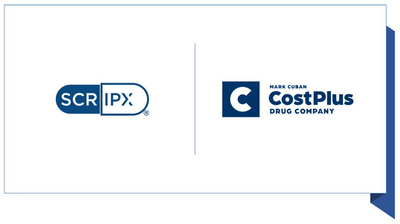 Scripx Pharmacy Partners with Iconic Public Benefit Corporation, Cost Plus Drug, to Bring Affordable Drugs to Americans
Texas-based leading independent pharmacy chain, Scripx Pharmacy, is thrilled to announce a strategic partnership with the nationwide famous pharmaceutical beneficiary company, Cost Plus Drug, with the aim of providing cost-effective prescription drugs to all Texans. Their collaborative effort introduces the groundbreaking Cost Plus Drug Team Cuban Discount Card to local community pharmacies. Patients will now be able to present the new Team Cuban Card at all Scripx locations to receive personalized discounts on specified prescription medications.
Amidst the alarming surge in medication costs in the United States, Scripx Pharmacy and Cost Plus Drug joined forces to ensure a more accessible and cost-effective method to procure medications. Through the initiative, Scripx Pharmacy will fill and distribute FDA-approved medications at the negotiated cost provided by the Cost Plus Drug organization, with a small additional markup of 15%, dispensing fee of $8, and processing fee of $1. Medication-specific discounts are made available at all Scripx pharmacy locations. Alternatively, they can also be searched directly from the Team Cuban Card site. This approach allows customers to pay solely for the true cost of the medication, along with a nominal service fee, effectively bypassing the inflated prices often observed at many other pharmacies, insurance agencies, and Pharmacy benefit managers (PBM).
As per Jon Eaton, the President of Scripx Pharmacy,
"At Scripx Pharmacy, we firmly believe that affordable healthcare should be accessible to all individuals. We are delighted to partner with Cost Plus Drug and introduce the Team Cuban Discount card, which is a significant step towards turning our belief into reality. We are eager to serve our customers and assist them in saving money on their prescriptions."
Scripx Pharmacy was established to combine the convenience of a retail pharmacy with the delivery capabilities of a long-term care (LTC) pharmacy and the growing trend of e-commerce. The company offers patients a convenient and hassle-free pharmacy experience - inclusive of patient counseling, medication education, and over-the-counter options - all from the comfort and safety of their own homes; thus eliminating impediments like waiting periods or bad service often associated with traditional pharmacies. Scripx utilizes cutting-edge technologies like smart pill bottles, wearable devices, and virtual assistants to go beyond the traditional model of medication delivery and enable a seamless and efficient way to deliver essential pharmaceuticals to the customer's doorstep. Scripx prides itself on its commitment to exceptional customer service and patient care, with the Cost Plus Drug initiative being one of many examples of this dedication.
The Cost Plus Drug Company was founded in 2022 to produce and sell medications with clear and fixed profit margins and remove the intermediary wholesalers raising the cost of drugs. The goal of this company is to address and eliminate unnecessary drug shortages in the US and offer an affordable solution for patients negatively affected by market and regulatory factors in the country.
Together, Cost Plus Drug and Scripx Pharmacy strive to have a significant influence on the pharmacy industry by meeting the increasing need for affordable medication access and enhancing the well-being of numerous individuals in the United States.
**Original article featured in Markets Insider.