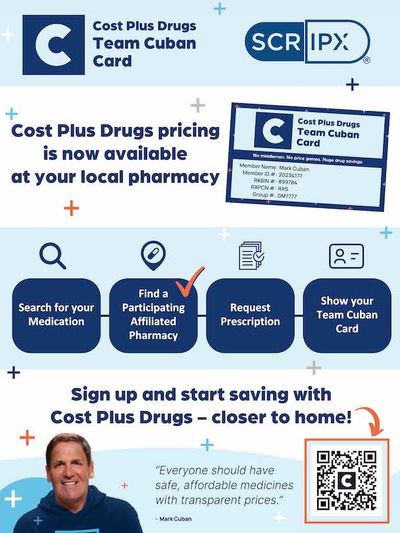 FOR IMMEDIATE RELEASE: Scripx Pharmacy and Mark Cuban Partner to Bring Cost-Effective Drugs to Americans
Dallas, TX - Scripx Pharmacy, a leading independent pharmacy chain, has announced a partnership with Mark Cuban, entrepreneur and owner of the Dallas Mavericks, to offer the Cost Plus Drug Team Cuban Discount Card. This initiative aims to provide affordable prescription drugs to Texans, by offering them at cost price, plus a nominal service fee.
The Cost Plus Drug initiative is a response to the growing issue of skyrocketing prescription drug prices in the United States. With many Americans struggling to afford their medications, Scripx Pharmacy and Mark Cuban are committed to making prescription drugs more accessible and affordable for all.
Under the Cost Plus Drug initiative, Scripx Pharmacy will source and dispense high-quality generic drugs at cost price, with a small markup to cover operating expenses. This means that customers will only pay for the cost of the medication, plus a nominal service fee, rather than the inflated prices charged by many other pharmacies.
"We are thrilled to partner with Mark Cuban and offer the Team Cuban Discount card," said Jon Eaton, President of Scripx Pharmacy. " At Scripx Pharmacy, we believe that everyone should have access to affordable healthcare, and this initiative is a step towards making that a reality. We look forward to serving our customers and helping them save money on their prescriptions."
Scripx Pharmacy is committed to providing excellent customer service and patient care, and the Cost Plus Drug initiative is just one example of this commitment. Customers can also benefit from a range of other services, such as free home delivery, medication synchronization, and medication therapy management.
The Cost Plus Drug initiative is available now at Scripx Pharmacy, located at 601 W. FM 544 St. 102, Murphy, TX. Customers must visit the pharmacy to present their patient specific discount card. Discount cards can be obtained directly from the Team Cuban Card site.
About Scripx Pharmacy:
Scripx Pharmacy is a leading independent pharmacy based in Dallas, TX. The pharmacy is committed to providing excellent customer service and patient care, and offers a range of services to help customers manage their health and wellness. For more information, visit Scripx Online
Contact:
Jon Eaton, President
Scripx Pharmacy
601 W. FM 544
Ste. 102
Murphy, TX 75094
(469) 596-0341
hello@scripx.com